2017 FND Conference Summary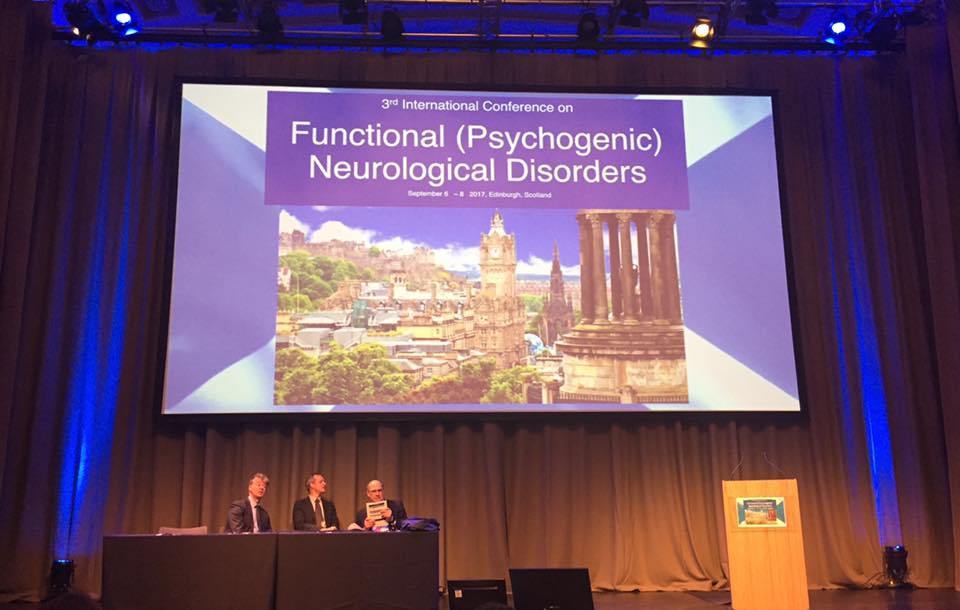 Functional Neurological Disorders
3rd International Conference 2017 – Written By Amy Bradley
"Not everything that is faced is changed, but nothing can be changed until it is faced."
The stand-out quote by James Baldwin was delivered as part of a stand-out ethics lecture by Dr Rommelfanger of Emory University, Atlanta, and one which encapsulated the intent of the 3rd International Conference on Functional Neurological Disorders (FND). Hosted in Edinburgh by Dr Jon Stone, Dr Alan Carson and Dr Mark Hallett, and with over 500 international delegates in attendance, there was a sense of a groundbreaking change and progress in academic and clinical FND circles. Indeed, there was a real 'coming together' feeling, one which sought to embrace an increased awareness, interest and change in the clinical and academic FND communities.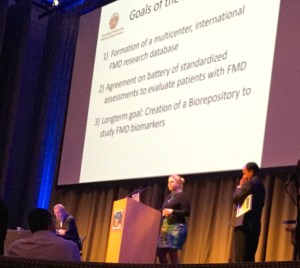 With day 1 comprising a range of talks on FND classification and the range of FND symptoms, day 2 focussing on the suggestions and hypotheses for the causes and mechanisms of FND and day 3 informing on treatment, the breadth and depth of specialism was outstanding. The pioneering seminars on inpatient and physiotherapy programmes respectively delivered by Dr Kathrin LaFaver (USA) and Glenn Neilsen (UK) were full of hope and ambition. Further, they provided an indication that treatment and rehabilitation plans are likely to continue to improve support and help individuals on their way to recovery. Brain imaging studies and research efforts indicate that there is continuing progress in understanding changes in the brain associated with FND. Whilst considerable work is still required if we are to understand whether these changes are a cause or a consequence of FND, such ground-breaking studies can only increase the likelihood of effective treatments being developed and implemented to benefit those with FND in the future.
During the final day of seminars, there was lengthy consideration of the fact that FND patients have such a wide range of symptoms and likely causes for their symptoms. These discussions were precipitated by talks on some pharmacological and psychological therapies that have been found to help some people with FND. Overall, there appears to be an increasing move towards the suggestion that a range of physical, occupational, speech and language and psychological therapies should be developed for those with FND, with the idea that people could access and be referred to the most appropriate treatment and therapies for them and their symptoms. Much time, effort and funding is needed to continue to develop this ideal, but it is hugely positive that there is aspiration to move in this direction.
Differences of opinion and differing schools of thought are critical to facilitate progress, and there was much discussion and debate over the three days of the conference. In comments, Dr Katherine Gill (FND Hope, Australia) spoke about the severe distress that people with FND suffer, and that these feelings need to be validated, not made worse by sometimes stressful and stigmatising interactions with healthcare professionals. Indeed, other, often 'invisible' illnesses such as Depression, Schizophrenia and Chronic Fatigue Syndrome are acknowledged as being very real conditions which have a significant effect on people's lives, and so FND should be acknowledged in the same way. Katherine also spoke about the importance of compassionate and empathetic care from the very first consultation, and how important the use of positive and recovery-orientated language is. Bridget Mildon (FND Hope founder, USA) asked for wide appreciation of the fact that many people with FND do not believe that traumatic events or psychological factors are/were critical or a factor in their development of FND, and requested that clinicians and professionals take these patients at their word.
Amy Bradley (FND Hope, UK) raised the need for FND researchers and clinicians to publish all their findings, regardless of whether their studies produced 'positive results'- e.g. those showing that 'treatment x' improves symptoms for FND patients- or 'negative results' – e.g. those showing that 'treatment y' or a particular brain region, does not cause a change or is not different between those with FND and healthy individuals. Whilst 'positive results' are more sought after and published in every research field, Amy argued that particularly in the field of FND, where so little is known, all findings have the potential to be hugely informative. Indeed, if we are to have any hope of improving treatment and care, we need to know as much as possible about what is and what is not different between those with FND and those without. It could be suggested that such transparency would help to drive the development and provision of increasingly effective treatment and care, and ensure that resources and effort are used in the most efficient and beneficial way possible.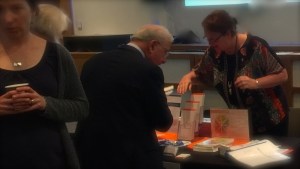 The FND Hope team, including FND Hope UK's Executive Director, Dawn Golder (UK), engaged multiple clinicians, academics and healthcare professionals over the three-day event, with many taking FND Hope material to distribute in clinics and centres around the world. Excitingly, the FND Hope team collected names of multiple professionals who see, advise and treat FND patients globally. These details will form the basis of the very first FND worldwide medical directory. This will mean that people with FND, their clinicians and support networks will be able to find specialists in their area, with the view to improve care and enable access to better treatment. This directory will represent progress in increasing knowledge and awareness of FND and access to specialist services. FND Hope representatives also promoted the Scientific Registry– a database in which we are aiming to capture the symptoms and experiences of those with FND to help drive research and understanding.
With international FND Hope representation from United States of America (Bridget Mildon), Australia (Dr Kathrine Gill), United Kingdom (Dawn Golder and Amy Bradley) and The Netherlands (Marieke van de Ree), along with many international delegates, the FND 2017 conference could well mark a monumental step in global FND research, treatment and care. There is still much work to do, comprehensive treatments and inter-disciplinary patient services to be developed and research to be continued, yet there is an active interest and commitment to serve this great need. Along with many dedicated professionals, patient advocacy and voice is likely to play a major role in championing the FND cause and building up the services, support and understanding that will assist FND recovery and improve lives.
With an audience specifically interested in FND and so many dedicated individuals, it seems that there is every possibility for positive change and progression in improving FND care and treatment. It can only be hoped that this marvellous conference will truly begin to bring about such change. Indeed, plans are already underway for a conference in 2020 in the USA. Dr Alan Carson hopes that once technical issues are resolved a film of the conference will be available for all those who wish to view it, and FND Hope will provide links to this, if it becomes available.
"As a patient it was an overwhelming emotional experience and very inspiring to be able to be present at this historic scientific confrence!"  -Marieke van de Ree, The Netherlands FND Hope Representative
MORE FND CONFERENCE HIGHLIGHTS

Dr. Jon Stone, Consultant Neurologist and Honorary Reader in Neurology at the University of Edinburgh, discussed the consultation as treatment and stressed the importance of adequate time for patient and neurologist to discuss the FND diagnosis. Thorough explanation of FND and time to answer patient's questions can aid the treatment process.  
Dr. Mark Hallett, neurologist and Chief of the Human Motor Control Section, National Institute of Neurological Disorders and Stroke, National Institutes of Health, Bethesda, Maryland, spoke about the neurophysiology of FND. To understand FND, it is critical to know how the brain functions and and what goes wrong in cases of FND.  He discussed what perception actually is, how the brain processes information from the world around us, how we initiate movement, and how that signal gets disturbed.  
Professor Mark Edwards, professor of Neurology at St. George's Hospital London, talked about the predictive models of the brain. He warned that we are still far from understanding FND. One theory is that our brain seems to have a complicated "predictive system". We perform most moves more or less automatically, and they can go wrong if we focus our attention on the movement, as can happen with FND patients.
Glenn Nielsen, Honorary Consultant Physiotherapist at St George's Hospital, focuses on functional motor disturbance research. He talked about physiotherapy treatment for FND. This form of treatment, which is different from typical physical therapy, has emerged as the most promising (70% improvement in FND patients).  He hopes to conduct a large-scale research study to prove th is theory.  
Dr. Kathryn LaFaver, neurologist at the University of Louisville Hospital (Kentucky, United States) specialising in movement disorders, is a leading FND professional with an interest in both treating patients and conducting research. She has achieved some amazing and hopeful results with her Motor Reprogramming [MoRE] Program.  "MoRe" is an interdisciplinary, inpatient rehabilitation program for functional movement disorders (FMD) offered at the Frazier Rehab Institute in Louisville, KY, based on a program developed at the Mayo Clinic in Rochester, Minnesota.  The rehabilitation team includes neurologists, physiatrists, physical, occupational and speech therapists and psychologists.  Dr. LaFaver shared a video of a patient arriving in a wheelchair and a week later walking out by himself. This inspiring video illustrated hope to patients and physicians alike!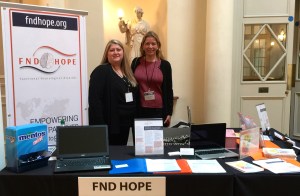 "The conference was a great opportunity to advocate for those with FND. I appreciate the dedication of our FND Hope team to not only volunteer their time, but also self-fund to attend the conference." -Bridget Mildon, President/Founder FND Hope