FND Update: Partners in Treatment Innovation for Functional Neurological Disorders: Patients, Families and Providers
March 3-4, Emory University Atlanta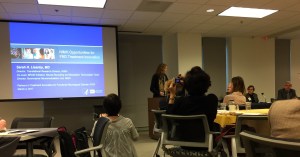 Written by Bridget Mildon
I would first like to thank the team at Emory University for inviting me to participate once again in their FND conference.  I had the privilege to take part in the closed invitation meeting in 2015 called Controversial labels and clinical uncertainties discussed here:  http://journal.frontiersin.org/article/10.3389/fneur.2017.00106/abstract.
This 2017 conference, Partners in Treatment Innovation for Functional Neurological Disorders: Patients, Families and Providers, offered a unique opportunity to discuss FND from many perspectives. Thought leaders came together from both the US and the UK to discuss the plethora of issues individuals with FND face. It was a pivotal moment for many patients who participated in the FND conference. There was a unique occasion for patients to speak one on one with leading researchers such Dr Stone shown in the image below.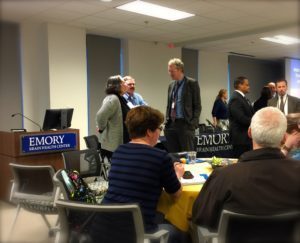 Each session began with a new topic and speaker and ended with an opportunity for the audience to address the panel with questions or comments. I had the privilege to open the Perspectives and Patient Narrative session. It was an honor to be asked to speak about advocacy and FND Hope. Speaking gave me an opportunity to discuss our grassroots movement and how quickly the FND community is growing. I was excited for the chance to announce that FND Hope has teamed up with the Genetic Alliance to create the first of its kind FND Scientific Registry for medical research. I also invited all those attending to join in the 5th annual International FND Awareness day on the 13th of April.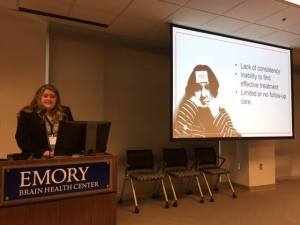 The conference elicited a mix of emotions from patients and their families in attendance. One very important comment was from a mother who addressed the panel asking what she could do to help her son now. She expressed her deep concern for the life he is missing and the lack of resources available.
FND Hope patient and physician pamphlets were available at the conference and many clinicians voiced how thrilled they were to have information to give to their patients. (Patient care information booklets have been written by leading researchers and will be available soon.)
It was evident throughout the conference that a vast range of opinions continue to exist amongst attendees. However, the one consensus amongst all who attended was the need for a patient registry to assist with better research, a desire to improve treatment services for Functional Neurological Disorder, and a deep commitment to those battling FND symptoms.
We would like to thank Dr Stone for the following summary of the events as well: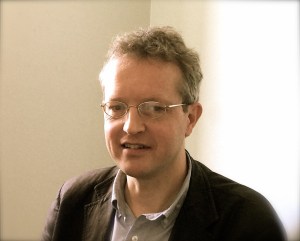 It was an honour to attend this special meeting devoted to FND hosted by Emory University in Atlanta. This was a unique event to which leading researchers and clinicians involved in FND were invited alongside an open invitation to patients and carers with the condition. The meeting was made possible by a generous donation from Mark and Barbara Klein. Barbara has FND herself and has recently written about her experiences for Emory Medicine Magazine.  (this is the link – http://emorymedicinemagazine.emory.edu/issues/2017/winter/briefs/the-mind-body-connection/index.html)
The two day meeting focused on treatment and how patients with FND can work in partnership with health professionals.  There were lectures on the scope of the problem, the importance of good communication, both listening and explaining, physiotherapy, psychotherapy and inpatient rehabilitation. We heard from patients who had gone through treatment at Emory for FND and the challenges they had faced, especially in terms of stigma, obtaining a diagnosis and treatment, but also positive experiences of recovery. It was great to hear contributions from patients and patient advocacy groups who had attended the meeting. Finally we had some constructive sessions on organising care for FND from a US perspective and thoughts on funding from some of the leading US funders of medical research. This meeting followed on from a closed invitation meeting in 2015 which has been written up as an open access article – http://journal.frontiersin.org/article/10.3389/fneur.2017.00106/abstract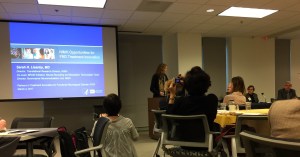 FND is a disorder at the interface of so many different disciplines and perspectives that this can create difficulties –   both between health professionals and between health professionals and patients. I was impressed by the chairmanship of Professor Mark Rapaport (Emory Psychiatry) and Karen Rommelfanger (Emory Neuroethics) who organised and introduced the meeting. Emory's new Brain Health Center in which Neurology, Psychiatry, Neurosurgery and Rehabilitation all work together in the same building embodying a multidisciplinary approach which also was the hallmark of the meeting. FND is a complex disorder and there is no 'one size fits all' approach. There is a huge mismatch between the numbers of patients with FND and the numbers of health professionals and researchers working to change the current situation, but I took many positives from the meeting. Professor Rapaport summed this up best when he observed the enormous opportunities that we all have, patients and health professionals, to change the landscape of understanding and treatment of FND for the future.
Dr Jon Stone, Consultant Neurologist and Honorary Reader, Edinburgh. He also created www.neurosymptoms.org an FND website with helpful information.