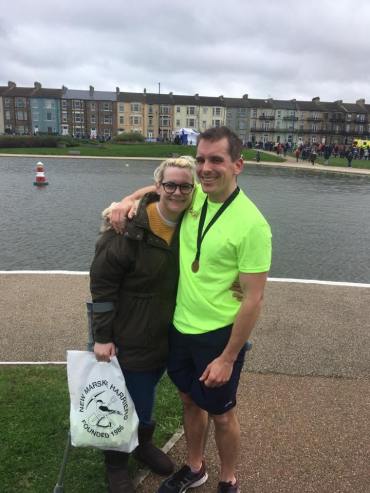 I decided to do the race to raise both money and awareness for FND Hope, as my wife Natalie has been diagnosed with FND for the past twelve years. Like most people, I knew nothing about functional neurological disorders until I met Natalie. I work full time in the fitness industry as a trainer and a coach, but I only started training specifically in July. Whilst I do a lot of exercise and cardio in my classes, it had been a while since I had done much outdoor running and five years since my last half marathon. I decided to do one long and one short run a week in addition to my regular exercise, starting off small and adding a few minutes each week to both. For my last two weeks, I tapered my training, after covering the race distance the previous week. With light runs in the build-up, I was ready for race day.  It was a relief to complete the race after second-guessing myself around the middle, not knowing if I'd prepared enough or if my pace was right. Natalie and her mother and sister all came along with my parents to cheer me on near the finish line. I finished in just under 90 minutes, but the best thing was how proud my wife was of me. It meant so much to her that I would do this for her, but to me, it was just a small contribution to help those who fight FND every day. No matter how much Natalie describes her symptoms, I still can't grasp what it must be like to suffer intense physical pain every day and keep smiling. Because I wasn't in Natalie's life at the time of her diagnosis, I get frustrated on her behalf that specialists still seem to know so little and help comes so slowly. I tend to forget that so much progress has been made, with patients no longer misdiagnosed endlessly and FND no longer having a 'fake illness' label.
Whilst I'm grateful for all the help Natalie is getting, I still hope more can be done so she isn't always in as much as she is now.
On behalf of FND Hope UK, thank you so much for raising awareness and raising a fantastic amount for our charity.