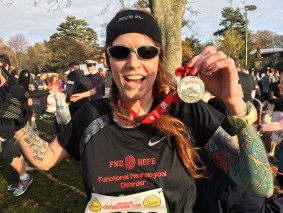 Louyse successfully ran the 10km Charity Christmas Festival on 3 rd December 2017 to raise money for
FND Hope UK. Louyse came 6th in her age category, with the first woman in her category only 1
minute and 27 seconds in front. What an amazing achievement.
Louyse wanted to raise money for FND Hope UK due to being diagnosed with FND about 5 years ago
and feeling the great impact it had on her quality of life and that of her family. She was (and is determined to see herself as) a long-distance road runner having completed many 10kms, half marathons and 1 charity marathon. Her most debilitating symptom is daily pro-longed whole body seizures which prevented her from running for a long time and made it impossible for her to run free in the fresh air. She started training recently again on a treadmill in the local gym as she can find no running club that can accommodate her. She is positive though – she says at least it always makes her the fastest runner in the club! And now she has added the first silver ware.
FND Hope UK would like to congratulate Louyse on an amazing run and raising £130 so far. We'd like
to say thank you so much for advocating for FND Hope UK.